Lightfold
The end of earth is coming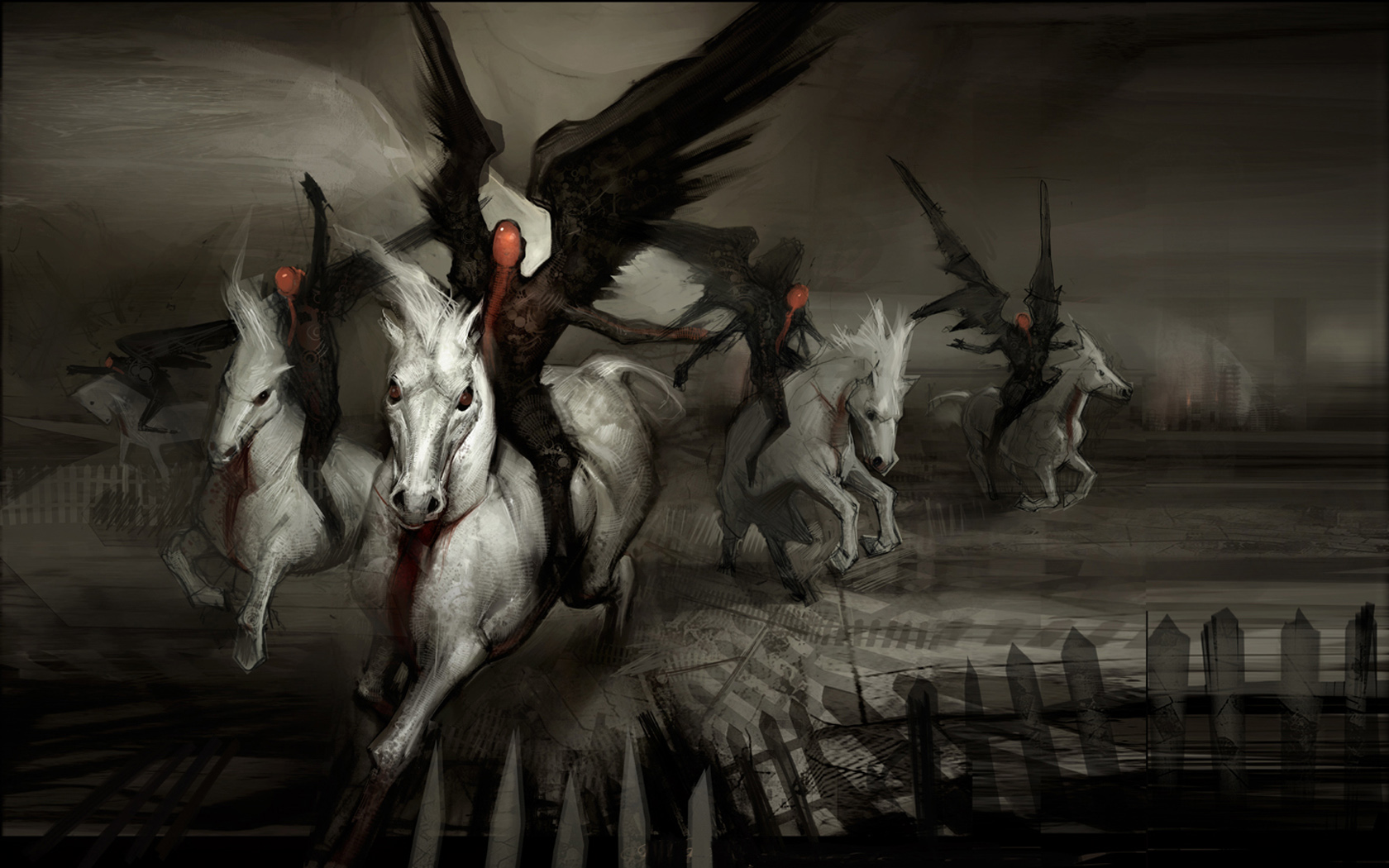 December 27, 2078 - Four horses rode into Chicago today, all with dead bodies riding them.

January 3rd, 2079 - We have just gotten the official release of the names and situation that occurred in Chicago. one white horse with a crown nailed into it's body and the body of X - Football Star Bowtian roped onto the horse. The Second, x - president Jackson was roped onto the horse carrying a large sword. That horse was dyed red in the blood of a missing child. DNA confirms that. Then there was a black horse, which was ridden by the famous swimmer, Jessica Robins, who vanished 6 years ago. Then a grey horse, who was ridden by Triton Fanshi, famous x -dictator of Costa Packa who vanished 6 months ago. Some rejoice upon his death, as his nickname was 'death' It's officially a nation of panic, school is canceled.

February 2nd, 2079 - The 10th instance of this 'death rider' has occurred, once again in the United States with a small town called 'Lightfold'. This is the first town in which the population is below 1000 has had a instance with the 'death rider' murderer (s). People all around the world are saying a hooded figure 'death' took their family members. We have not confirmed this.

July 2nd, 2079 - It's been 5 whole months with no horse killings, some say that god has corrected the error, and that earth will be alive for years to come.

September 7th, 2079 - School is starting again all around the world, must of been a one time thing.
---

Heaven and Hell are falling apart, Death is killing people left and right, he's causing the apocalypse. Demons and Angels have been sent to earth to judge those before death. They are told not to make connections to the humans, as they are going to die soon, but this is a second chance at life, love, friendship and to truly be a human. Are you able to stick to the rule?
---
This takes place in Lightfold High School, where demons and angels are 'spying' in the students. I have lots of plans for this.
Rules / Notes
~ Sign Ups are always open
LINK
~
~ Humans do not know about Angels / Demons ~
~
FACECLAIMS
~
~ Angels do not have wings, Demons do not have horns / tails ~
Powers
ANGELS : Immortality* , Cause humans to pass out, High Stamina, Voice Mimicry

DEMONS : Immortality*, Cause humans to temporarily follow their command**, High Strength, Illusions


Now if you really want me to go into detail. Immortality is where you can't die, but when you die, the head angel knows and so does god / satan. That's a bad idea!
Humans will pass out for like 10 minutes or so, run for like really long time at an easy pace, mimic anyones voice.
following voice command is like 2 minutes or so, and they remember it but unsure why they did so. Don't go crazy,
For the strength, it's their weight they can lift.
Illusions don't work on angels very well, but great on humans.
---
Ta ~ Da