Happy Birthday Diana!!!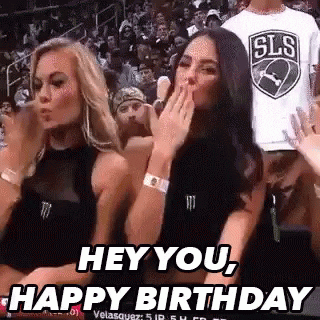 We all wish you have the best b-day ever @xetic !!!
My paragraph

Lol first of all Diana, you are bhaddie lmao! You're badass, hilarious, caring, helpful, and kind! I love it when we argue about silly things! But if anybody messes with you, they'll have to mess with me! Also that dare you gave me was hilarious yet uncomforable! But I gotta say I bet you loved that dare I gave you about pedishille jkjk haha! But seriously you're amazing, and I can't believe you turned 14!!! I'm so sorry that I didn't give you an edit, I'm just so busy lately, but I'll promise to make you something! ilysm @xetic!
Patrick's

@Problematic_Patrick:
First of all, about the edit…umm…sorry. Anyway, B h X DIE DAS HET FFROSTED FLAKES, I wish you a happy birthday and hope you have a GREAT birthday. You're such a good friend and ilysm; feels like just yesterday we met and you sent me that link to "McDonalds" And you a talented bih wtf STOP snatching my wig…ok nvm keep it up cuz I like seeing what u come up with AnYWAY, you're so sweet (sometimes) and I love how protective you are of your friends and will fight for them if needed I actually dont deserve u period. Love ya babushka! sorry that paragraph was weird idk how to feelings



Kylie's

@eilyk:
wsp stoopid , happy birthday yo youre so old omg youre like 14 old ass youre growing up thanks for always being here for me ho , youre like the reason ive improved in everything tbh , especially my art like deadass wo you i wouldnt have been where im @ rn , you were my first friend on here & i love you for staying w me , your energy still shocks me pero like thas one of the things i love abt you not to mention the fact that i had a crush on you for a while LMFAOO SISISISISSIS pero anyways , thanks for still not replacing me after almost a year , thanks for not getting tired of me , &&& thanks for still being my bsf , wo you , i wouldnt b here rn so stfu bitch , you always helped me w like EVERYTHING , my story , my art , giving me advice , attacking hos , making me feel better & sm more , you a rl one hOmIE doG , i should defo write more on here but its 2 am & im tired LMFAOO so jus b grateful ho, u always gonananaan b my #1 bich , & ill never replace your dumbass for anyone else . LMFAOO I REMEMBER WHEN WE TRIED CALLING EACHOTHER BUT THE AUDIO DIDNT WORK AND WE WERE LAUGHINNG SO HARD OR ALL THOSE TIMES WE GOT OUR ASSESS FLAGGED FOR SAYING STUPID SHIT ON THREADS , i love you asshat , HAPPY BIRTHDAY bESfRanD .

Bridi's

@Bridi:
Boo, I hope you have the best birthday possible, I love and adore you so fucking much! You are an amazing talented Lil bean and I couldn't be more grateful for your friendship, you have been an amazing friend and you always know just what to say to cheer people up! I hope you like your present you are a qween who is loved dearly!

WOVE YOU BOO!

Sofia's

@sofia2:
Happy birthday BBY!
Love you so much and I hope you beat them hoes and have the best birthday ever!!!
You talented queen, wish you the best!
Sierra's

@lvqbrl:
happy birthday samuel !!

even though you bully me & are a MaN & blocked me smh i still lava u & ty for always being a real bitch ur so talented & lowkey a crackhead but so fucking funny & everything you say makes me laugh lmfaoo ur a crazy bitch & ily ok bye
Jossu's

wazzzuuuppp love! so uhm first of all love u so muchhhhhh, second of all i didn't have time to draw u a edit (sowwy) so ur getting a edited piece, 3rd of all this paragraph is bad so i'm ending on this thing. love u so fucking much stoopid, ur a cute lil' precious bean and we all love u.



Nameera's

@Neptune:
omgg, samuel-

it's your birthday!!
lemme just say, you deserve to have the best day ever and i hope all of your wishes come true

i remember when we first met when i requested at your art shop- we became friends instantly. but after a few weeks, we became inseparable. omg ilysm
you're so amazing, intelligent, funny and kind and idk what i'd do without you- in fact, i don't even wanna know-
you're so amazing, don't let anyone tell you otherwise. do me a favor and never change. always be your lovable self.

ALSO YOU'RE SO TALENTED!! I LOOK UP TO YOU! you're a big inspiration, i swear-

anyway, happy birthday ilysm, frosty!

(also i'll post your edit soon- sorry, it's taking a while.)

-nameera
Tagsss
Here is your cake:

We love you Dianaaaaa